Looking Back: Rockship Summer Internship 2023
Introduction
Summer internships are a great way for students to gain valuable experience, skills, and connections in the professional world. They provide a chance to apply theoretical knowledge in practice, see what it's really like to work in a particular field, and build relationships with people who could help them advance their careers.
If you're a student interested in Information Technology, a summer internship at Rockship is a great option. You'll have the opportunity to work on real-world projects with experienced professionals, learn about the latest technologies, and make connections that could help you land your dream job after graduation.
Here are some of the specific benefits of a summer internship at Rockship:
Gain hands-on experience with the latest IT technologies. You'll work on real-world projects that use the most cutting-edge IT tools and techniques.
Learn from senior employees. You'll be mentored by experienced IT professionals who can teach you the skills and knowledge you need to succeed in the field.
Build your network. You'll have the opportunity to meet and connect with other IT professionals, including potential employers.
Increase your chances of landing a job after graduation. Companies are more likely to hire job candidates with relevant work experience, so an internship at Rockship can give you a competitive edge.
If you're a student who is serious about pursuing a career in IT, a summer internship at Rockship is a great investment in your future.
About us
Rockship is known as a technology company specializing in software development. We offer software development partnerships with founders of tech startups to build the latest cutting-edge products. Rockship has over 6 years of experience in the software development service and our clients are mainly from Singapore, Japan and Europe. Our work process incorporates advanced technologies like ChatGPT and CI/CD. Our commitment lies in delivering innovative, efficient solutions, ensuring optimized services for our clients.
Summer Internship Programme
Rockship's 8-week Summer Internship Program offers students the opportunity to gain real-world work experience in three different roles: Frontend Engineer Intern, Backend/Data Engineer Intern, and AI Engineer Intern. The program bridges the gap between academic studies and practical work exposure by involving interns in real projects at Rockship.
After a month of selection and interviewing, Rockship selected several promising individuals from universities in Ho Chi Minh City, including Foreign Trade University and Vietnam National University - University of Technology and International University.
In addition to experiencing Rockship's dynamic Gen Z work culture, interns also had the opportunity to learn from experienced professionals in the field of information technology. Rockship recognizes that professional growth encompasses more than just skills, so the program also provides psychological and material support to interns, creating an invaluable environment for comprehensive development.
Overall, the Rockship Summer Internship Program was a valuable experience for all interns. They gained real-world work experience, learned new skills, and made connections with experienced professionals in the field of information technology. Rockship is committed to providing students with the opportunity to learn and grow, and the Summer Internship Program is a great example of this commitment.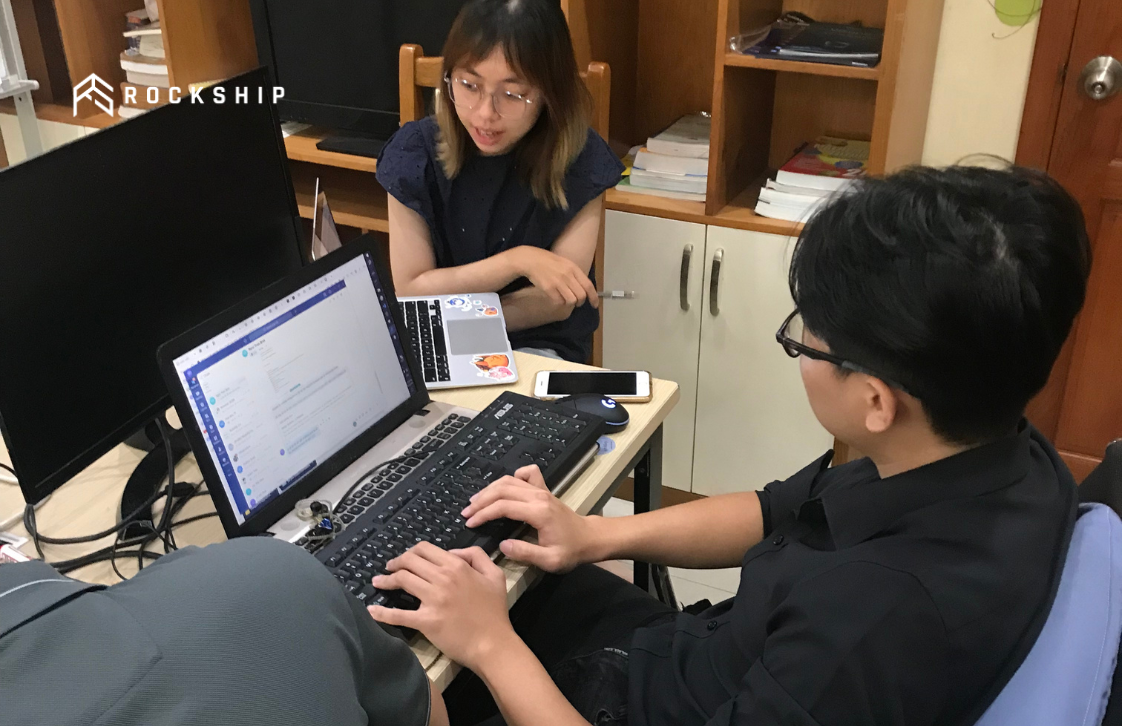 Here is a summary of the internship journal for each position: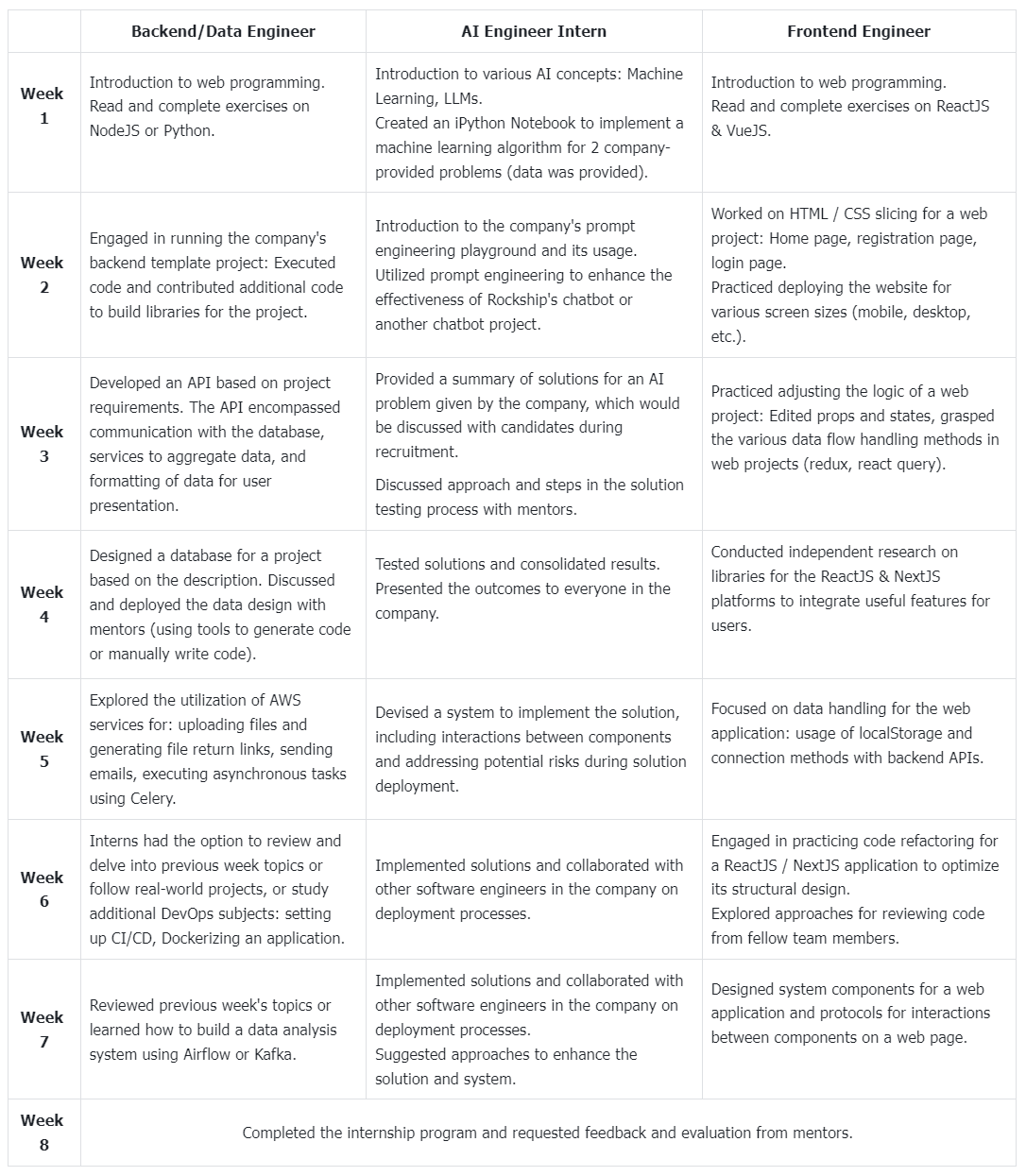 Story from Rockship
As Nhat, one of the interns in the Rockship Summer Internship Program, I can say that my time here has been an exceptional journey. The working environment at Rockship is incredibly welcoming and supportive. My colleagues are friendly and helpful, and my manager has provided me with the guidance I need to quickly integrate into the job.
I have also had many opportunities to learn and grow during my internship. By participating in real-world projects, I have gained additional work experience and honed my teamwork and problem-solving skills. I am confident that the experiences I have gained at Rockship will be a valuable asset in my future career.
Here is a specific example of a learning opportunity I had during my internship:
On one project, I was tasked with developing a new feature for the Rockship website. I worked closely with my manager and other engineers to design and implement the feature. I learned a lot about the different aspects of web development, and I gained valuable experience working in a team.
I am grateful for the opportunity to have interned at Rockship. It has been a truly transformative experience that has helped me grow both professionally and personally.
Coming up next?
Rockship is committed to fostering the next generation of tech leaders by providing summer internship opportunities to young talent. We are excited to continue this program in the future and help even more aspiring technologists launch their careers.