Singapore Businesses Face Uphill Battle with Rising Costs and Manpower Challenges in 2023
As per the most recent 2022/2023 National Business Survey (NBS) by Singapore Business Federation (SBF), nearly all companies in Singapore encounter challenges related to manpower and rising costs. Wage expenses stand out as the top concern of Singapore companies, presenting a substantial hurdle for companies striving to both attract and retain skilled employees.
This survey conducted from August 29 to November 23, 2022, garnered insights from 931 companies spanning various sectors. The study encompassed diverse themes such as prevailing business outlook, effects of inflation and supply chain disruptions, existing obstacles, business focal points, digitalization, transformation, globalization, and concerns linked to ESG (Environmental, Social, and Governance) matters. Notably, 73% of the respondents were small and medium-sized enterprises (SMEs), while the remaining 27% represented larger corporations.
96% of Singapore businesses continue to face manpower issues

These challenges exhibit multiple dimensions, of which escalating labor costs (75%) are the top issues. Apart from that, the struggle to attract and retain a younger workforce (51%), rising costs due to recent foreign manpower policies (48%), scarcity of skilled local workforce (47%), and stricter policies restricting foreign labor supply (43%) are also accounted.
How to find skilled employees at a low cost for IT companies? Check out Tips And Best Practices To Overcome IT Hiring Challenges.
Increasing costs is also a core challenge, with wages being the top concerns
97% of participants anticipated the persistence of cost inflation throughout 2023, while one-third disclosed experiencing adverse impacts due to this inflationary trend.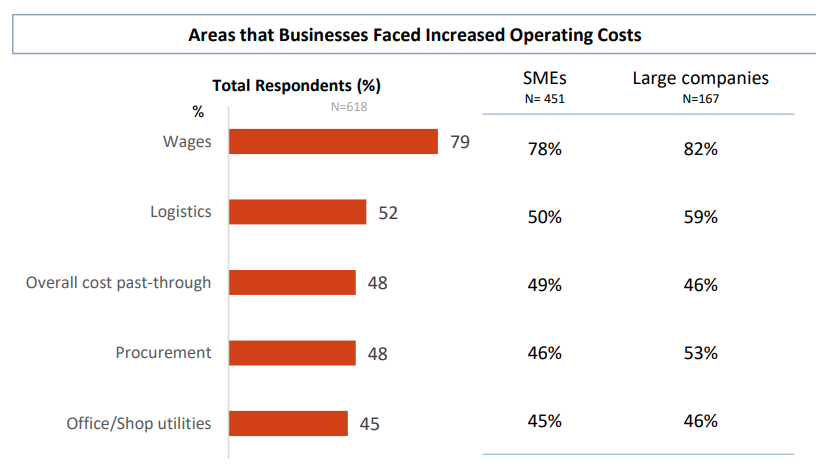 Of 931 companies, 66% experienced Business Cost Increase and 79% of them said wages will be their top cost challenge. Despite that, 40% of businesses plan to increase salaries in the next years, which might be due to manpower issues of struggling to attract and retain workers. On top of wages, logistical costs (52%), overall costs pass-through (48%), procurement costs (48%), and utilities (45%) are also reported as the main cost issues of Singapore businesses.
The need for Business Transforms is Rising
Singapore businesses remain committed to driving business transformations. 96% of surveyed companies rate business transformation as very important or somewhat important.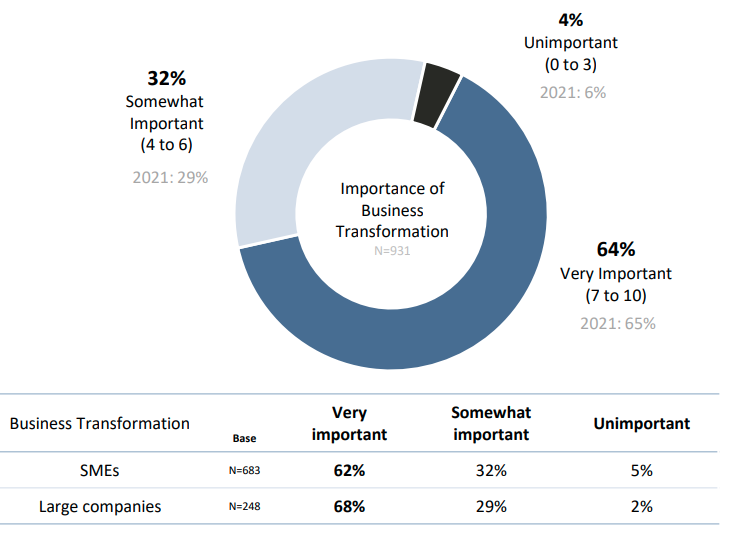 Breaking it into smaller areas, 71% of businesses believe that business transformation is essential for the "operational process". "Customer Service" (70%), "Business Model" (65%), and "Product & Services" (70%) follow as top priorities for Singapore Business.

Singapore businesses have also realized the benefits of Digital Transformation, with 54% reported that it led to an increase in productivity and 48% saying it has optimized operations. However, they are facing the high cost of technology adaptation (59%) and lack of management expertise to drive the technological change.
Looking to transform your company without technology expertise? Check out How Rockship can digitalize businesses with a cost-saving, AI-powered process.
Navigating the Tough Business Climate Ahead - What to Look For?
As 2023 approaches, Singapore businesses are bracing themselves for significant challenges ahead. Between rising costs, manpower shortages, and economic uncertainties, navigating the business climate will require resilience and adaptation.
Improving Productivity and Leveraging Technology
With a tight labor market, companies need to maximize productivity to avoid being short-staffed. Steps like improving processes, cross-training employees, and implementing automation can help. Leveraging tools and software to simplify workflows and reduce manual tasks also allows companies to do more with less.
For example, adopting customer relationship management (CRM) software can improve sales processes and free up employees' time. Implementing self-service options on websites and chatbots to handle simple customer queries reduces the burden on staff. Companies should look for ways to optimize existing resources before resorting to hiring additional permanent employees.
Providing Competitive Compensation and Benefits
While reducing costs is important, companies still need to provide fair pay and benefits to attract and retain top talent. Compensation that matches or exceeds industry standards will make a company an attractive employer, even with a competitive job market. Additional benefits like healthcare, paid time off, retirement plans, and flexible work options also encourage employee loyalty and satisfaction.
Outsourcing and Outstaffing can help address hiring difficulties.
With Singapore's aging population and low birth rate, finding skilled employees at affordable salaries is an ongoing struggle. Outsourcing certain functions to third-party companies or offstaffing roles to contractual employees from countries are two options to consider.
With outsourcing, companies can eliminate the need for in-house resources, such as hiring, training, and providing infrastructure, but still be able to build up a whole project with skilled labor. With outstaffing, businesses can access global talents and ramp up a team without the need to deal with payroll and legal activities, especially beneficial with stricter policies regarding global labor supply in Singapore.
Do these two terms still confuse you? Check out what are the differences between Outsourcing and Outstaffing to gain more valuable insights.
Diversification and new revenue streams provide stability.
With economic growth expected to slow in 2023, relying on a single product, service or market segment leaves businesses vulnerable. Diversifying into related offerings or adjacent areas and developing new revenue streams can help provide financial stability. That may mean expanding into export markets, licensing products or technologies, creating a subscription or membership model, or developing a new line of complementary goods and services.
Conclusion
With costs increasing and manpower shortages intensifying, 2023 will be a challenging year for businesses in Singapore. There is no quick fix to the issues facing businesses next year, but with prudent planning and proactive steps to control costs where possible, companies can continue to thrive despite economic pressures.
Staying competitive in 2023 requires the will to change.